Biofit Chairs
Clean Room /ESD (GG) Series
ArmorSeat ( GG ) Series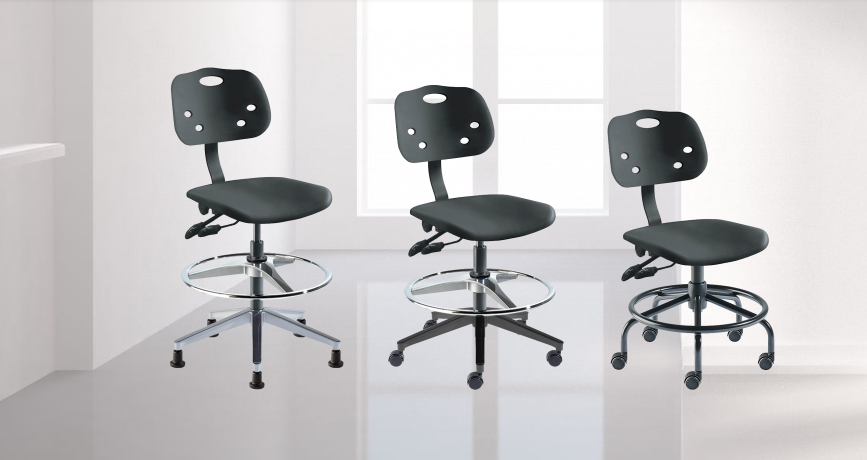 Rugged polypropylene multipurpose seating with antimicrobial properties and UV inhibitor standard in every seat and backrest.
The seat and back of these multipurpose chairs are constructed of non-porous polypropylene and have antimicrobial properties and U/V inhibitors.
Full ergonomic functionality, a range of options and seat heights for low, standard bench, and high bench applications make the ArmorSeat a good choice for many different task requirements.
Clean room (ISO 5 to ISO 8) and static control/ESD options are available.
Black powder-coated finish standard on metal parts, chrome optional.
Pneumatics are available to provide low, medium and high seat height ranges to accommodate many task requirements.
Durable and easy to clean all-welded tubular steel base with affixed footring.
Dual-wheel non-marring polyurethane casters resist movement when the chair is unoccupied.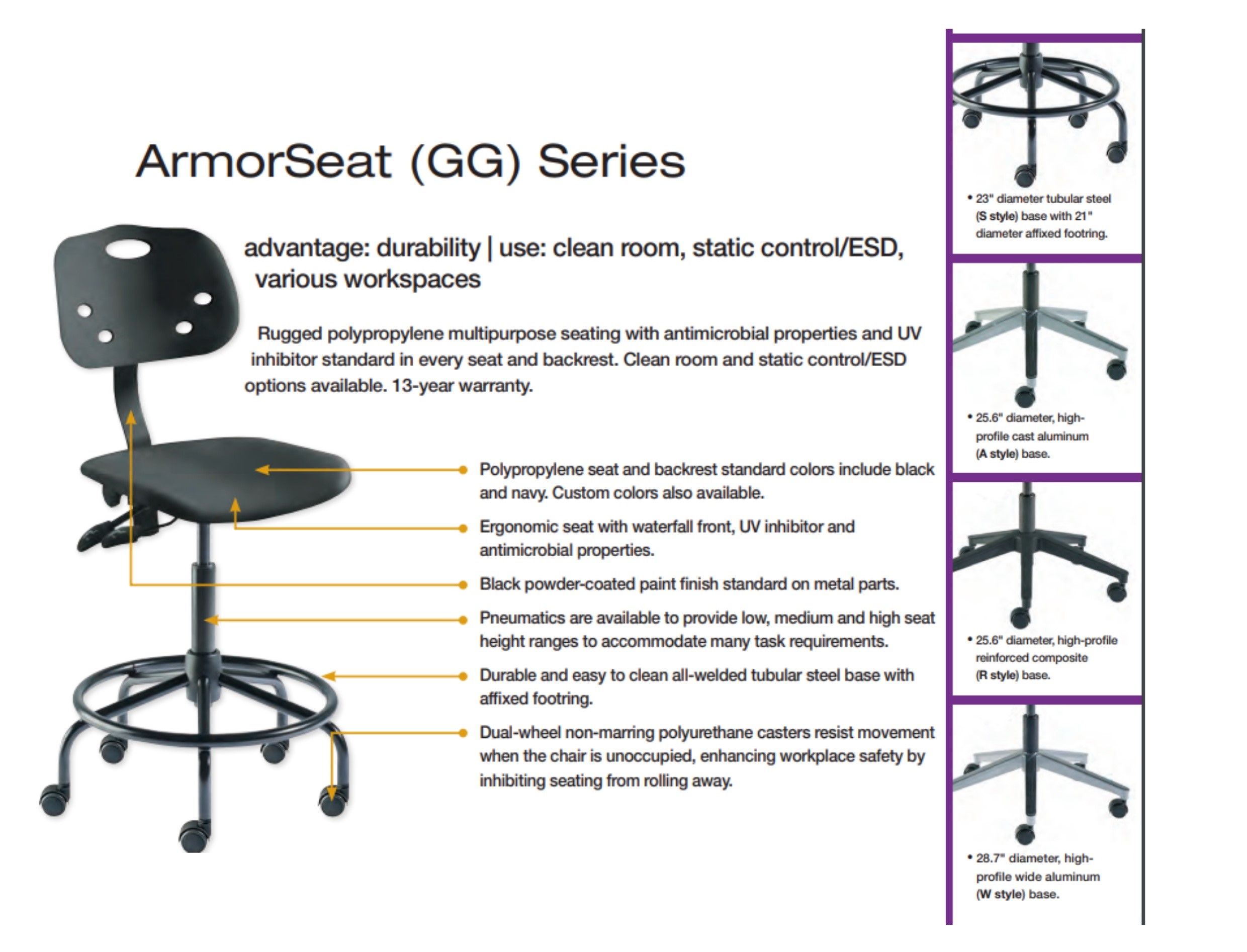 ArmorSeat (GG) Series | Standard Components 17.5"W x 15.5"D x 1.5"T seat, 16"W x 10.75"H backrest with integral lumbar support, soft touch pneumatic seat height adjustment, fixed rearward 3.5° seat tilt, backrest tilt and backrest height adjustment
Models with tubular steel base
| | | |
| --- | --- | --- |
| Model# | Seat-Hgt. | Compatibility |
| GGS-L-RC-T-XF-XA-06 | Low, 17"-21" | Desk |
| GGS-M-RC-T-XF-XA-06 | Medium, 20"-27" | Standard Bench |
| GGS-H-RC-T-XF-XA-06 | High, 24"-31" | High Bench |
Models with cast aluminum base
| | | |
| --- | --- | --- |
| Model# | Seat-Hgt. | Compatibility |
| GGA-L-RC-T-XF-XA-06 | Low, 16"-21" | Desk |
| GGA-M-RC-T-XF-XA-06 | Medium, 18"-25" | Standard Bench |
| GGA-H-RC-T-XF-XA-06 | High, 21"-31" | High Bench |
Models with reinforced composite base
| | | |
| --- | --- | --- |
| Model# | Seat-Hgt. | Compatibility |
| GGR-L-RC-T-XF-XA-06 | Low, 16"-21" | Desk |
| GGR-M-RC-T-XF-XA-06 | Medium, 18"-25" | Standard Bench |
| GGR-H-RC-T-XF-XA-06 | High, 21"-31" | High Bench |
Models with wide aluminum base
| | | |
| --- | --- | --- |
| Model# | Seat-Hgt. | Compatibility |
| GGW-L-RC-T-XF-XA-06 | Low, 16"-21" | Desk |
| GGW-M-RC-T-XF-XA-06 | Medium, 18"-25" | Standard Bench |
| GGW-H-RC-T-XF-XA-06 | High, 21"-31" | High Bench |
---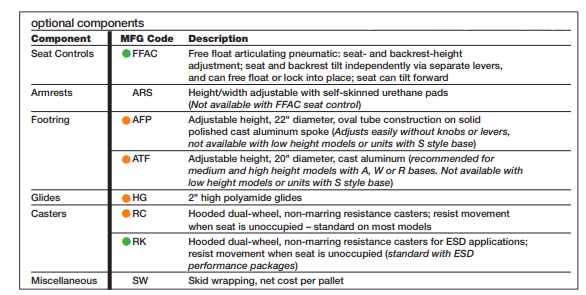 ---
performance packages
Category
Class
MFG Code
ESD
—*
K
Clean Room
ISO 8**
ISO8
ISO 7**
ISO7
ISO 6
ISO6
ISO 5
ISO5
ISO 4*
ISO4
ISO 3*
ISO3
Clean Room/ESD
ISO 8/ESD*
ISO8K
ISO 7/ESD*
ISO7K
ISO 6/ESD*
ISO6K
ISO 5/ESD*
ISO5K
ISO 4/ESD*
ISO4K
ISO 3/ESD*
ISO3K
Standard black metal part finish
-
06
Chrome-plated metal parts, chairs w/A, W, R base
-
C
Chrome-plated metal parts, chairs w/S base
-
C
*Not available with R style base.
**Comes standard with black powder coat metal finish